... or at least, not right now. Maybe I'll post something once the series has aired... I don't know...

Originally, I fully intended to post the stuff I filmed in Pierrefonds, even when the crew asked us not to: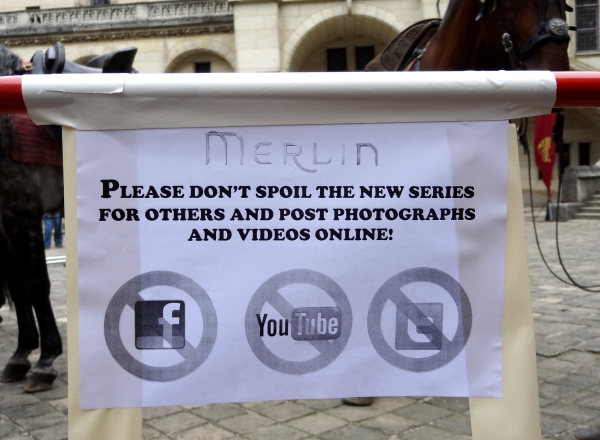 Naively, I believed I could contain everything within my livejournal, well wrapped up in spoiler tags, so, that anyone who didn't want to be spoiled, wouldn't. But after posting my picture post, I woke up to reality. It's not possible to contain stuff like that within my very own spoiler tags, it simply isn't! My pics appeared openly just everywhere; Twitter, Tumblr, Facebook, you name it! I'm not blaming just everyone who re-posted my pics. I'm very well aware of the fact, that they could've found those pics via google without having the chance to read my "not re-posting policy" right away (at least not without tracking back to my entry, which would've been 2 clicks tops), but I'm quite sure, that there're also those people who just snatch my pics and post them anyway despite having read my plea not to post them anywhere else. Bottom line is, I can't trust people or respectively the internet in general, and because I won't go against the crew's wishes any more than I already did, I decided to not post any further spoilers, especially not the stuff I filmed in Pierrefonds (at least not yet).

I'm sorry, but I hope you'll understand.