I actually did it...

It's been about three years that I last made a vid for a challenge, never had the time, the motivation, the right idea...well, you know how things are sometimes... but then I stumbled over ETV's July 'One-Line Vidlet' challenge and actually had an idea right away...YEAH! :D

So, here it is... hope you like it. :o)

Oh, and there're already 7 amazing vids for this challenge, make sure you check them out!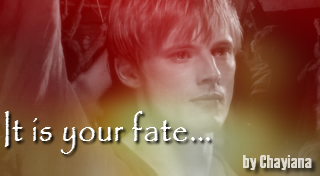 Title: It is your fate...
Music: Destiny of Mankind by Two Steps From Hell (part of)
Fandom: Merlin
Genre: overview of some sort
Size: 24 MB (zipped, *wmv)
Length: 39 seconds (w/o credits)

Summary: The path to destiny is not always an easy one.


Download or watch on Vimeo (password: destiny)